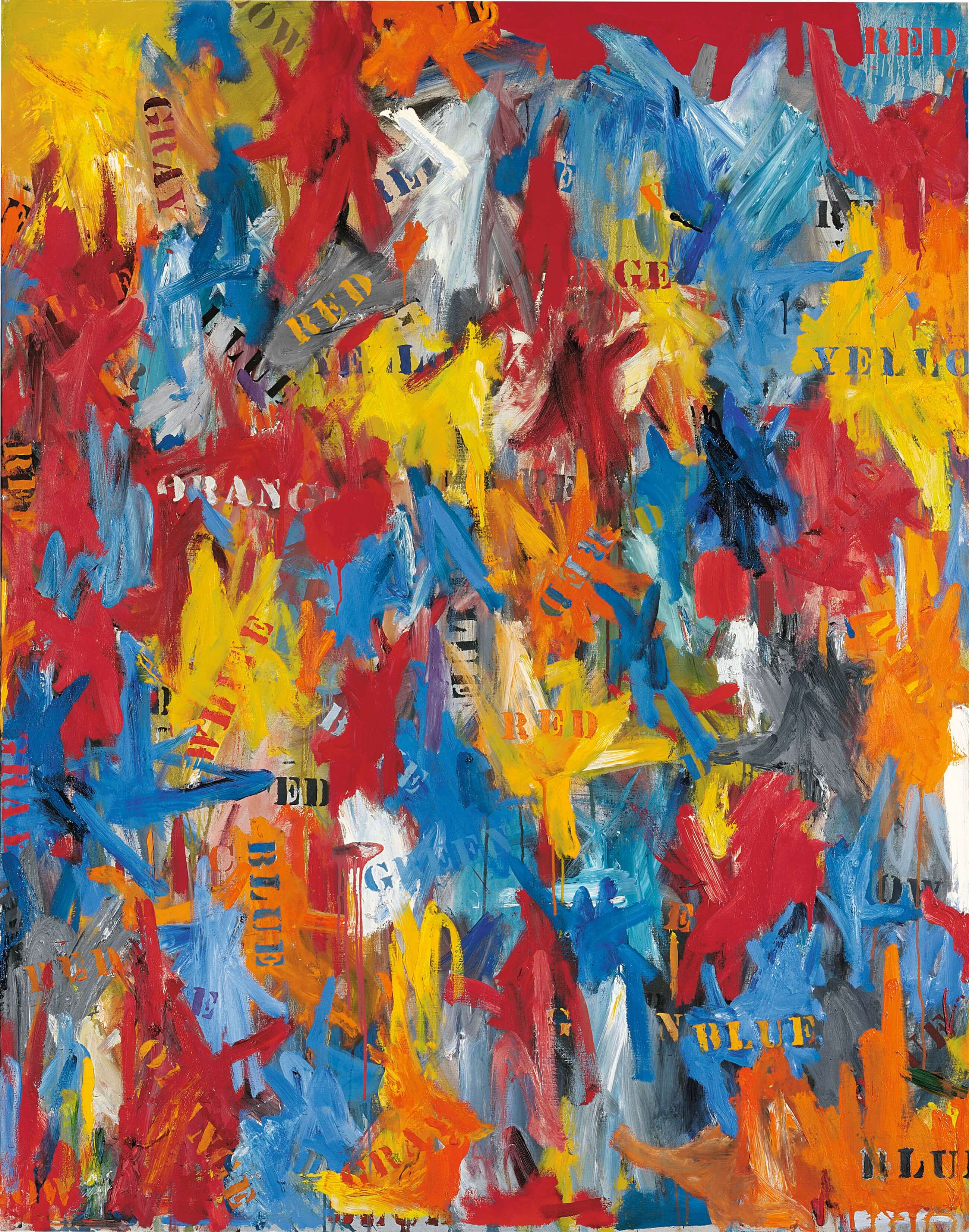 The influential art dealer Leo Castelli offered Johns his first solo exhibition in 1958, and continued to represent the artist until Castelli's death in 1999. Johns's early shows at the Leo Castelli Gallery exemplify the artist's keen precision concerning the display of his works.
The installation of works in the Philadelphia presentation of Jasper Johns: Mind/Mirror partially recreates one such exhibition as Johns arranged it in February 1960 at the famed Manhattan gallery. With his particular grouping, Johns showcased the evolution of a theme, playing with the relationship between parts and whole, and experimenting with color and scale. The intimate exhibition space of the gallery, evoked in this installation, allowed Johns to immerse visitors in a dramatic and carefully choreographed dance of repetition and variation.
The 1960 exhibition featured eight paintings—six of which are on view here—all visually united by their busy brushwork in various color palettes. Words emerge from or dissolve into fields of brushstrokes, stenciled labels name or misidentify colors, and painted surfaces obscure as much as they reveal. Each canvas acts as a meditation on visual perception and its limits. Through their thoughtful display, Johns paradoxically asserted his paintings are both complete works of art in themselves, and parts of an evolving series. As the compositions reverberate with each other throughout the space, the installation becomes a deliberately inconclusive statement that beguiles both the eye and mind.
The corresponding gallery at the Whitney Museum of American Art in New York recreates Johns's Leo Castelli Gallery exhibition from 1968.
---
Image Gallery
All works by Jasper Johns, © Jasper Johns / Licensed by VAGA at Artists Rights Society (ARS), New York
undefined
undefined
undefined
undefined
undefined